on the real, when i made this mixtape i had no idea of the type of reception it would get. one thing that i did know for certain is that i wanted to be known as something other than just "Luda's DJ" because i felt like that put me in a box. not that that's a bad box to be in per se because being "Luda's DJ" has enabled me to do things on a regular and consistent basis that back in 2000 i never imagined i'd be doing, like travel and other "perks" that come with it. and not just here in the States, but the WORLD shawty. if someone had told me back in 2000 that by the end of 2007 i'd have traveled the world and back more than a few times, plus been close enough to Nelson Mandela to actually shake his hand twice AND take a personal picture with him i'd have said, yeah whatever.
but back to that box i was speaking of.
there was a spinning career that i had before becoming "Luda's DJ". one that consisted of winning countless DJ battles, rocking clubs all over Atlanta, and the airwaves of Atlanta's biggest commercial radio station V-103 with my own show "The Late Nite Mixtape" that i hosted and spun on alongside my man Tommy Fixx, that every DJ in the city who's anybody at this current moment used to listen to and study every record, every mix, every cut and scratch religiously because it was dope but yet DIFFERENT from what every other DJ at my station (Greg Street, Frank Ski, DJ Herb, etc) and the other station Hot 107.9 (Nabs, Trauma, Mars, etc.) was doing. yeah i played some mainstream hits, but i also wasn't scared to incorporate hiphop that was considered "hardcore" by my PD and MD into my sets.
ahh, the "hardcore" shit.
Gang Starr, Nas, Common, De La Soul, Tribe Called Quest, Slum Village, Pete Rock, M.O.P., Redman, Busta Rhymes, Big Pun, Rakim, Dilated Peoples, etcetera balanced with a little Eric Benet, Les Nubians, Jill Scott, D'Angelo, Adriana Evans, classic breaks, as well as Master P, Juvenile, Bone, 2Pac, Snoop, Biggie, LL, Nelly, Da Brat and whatever Atlanta shit was crackin at the time. i sounded like NO ONE ELSE on the radio and in the clubs and i wanted to establish my name around the world as a dope ass DJ outta Atlanta that could rock whenever and wherever. matter of fact, i told Chaka Zulu (Luda's manager) when i first started doing Ludacris' promo tours that i wanted to get some love in the clubs wherever we traveled but it somehow fell on deaf ears which is a whole NOTHER story. but anyway, back to this mixtape...
lot of folks think that because i'm "Luda's DJ" that i have no knowledge of what "real hiphop" is. you'd be surprised at the frowns i get when i inquire about spinning at events. a promoter in Toronto even told me that because i'm "Luda's DJ" he didn't think that i was capable of spinning at his party because it was for "real music heads that don't wanna hear any of that south shit".
that shit fucked with me to no end and had me angry as fuck. i started telling promoters to just advertise me on the tables as Jaycee because i wanted to catch people off guard with what i play like okay, you're expecting a buncha crunk shit but watch how i flip from rockin the crunk shit into these breaks or this soul shit or just good hiphop music period. seeing personal DJ heroes like Jazzy Jeff consistently go all over the world playing the shit that he LOVES and getting worldwide acclaim, respect, and VERY GOOD MONEY for it let me know that it's possible so i just said "fuck it" and decided recently to go for what i know.
i felt really good about this mixtape when it was completed because i felt like i'd done right by hip-hop. i had no idea that it was going to be felt the way that it was because i had that "Luda's DJ" stigma that i'd been battling, and i know that fans can hate on shit due to the slightest detail, especially because i'm based out of Atlanta (even though i'm from Detroit). so to one day be browsing the net and coming across djsoulnyc.blogspot.com and seeing my mix being featured for download on his page let me know that i was on the right path so then i just started doing my "Eargasms" joints. i'd sent mixes to sites before like rappersiknow.com but one day figured, "hmm, lemme see if people at The Smoking Section will like my mixes". i'd seen all types of folk promoting their projects so i figured it wouldn't hurt to try. little did i know that Gotty was already hip, lol...
he hit me up and asked if i'd be interested in doing an interview regarding the making of "Pizza At Primo's", of course i was like "hellz yeah!!" he set it up and voila!!!
so before i continue rambling, here's the interview with DJ Sorce-1 from The Smoking Section...
"A DJ Premier mix tape of B-sides, remixes, samples and forgotten tracks? Why not… This was easily one of the best hip-hop mix tapes released last year. I still don't understand how people slept on this." – DJ Soul
Can someone DJ for Luda, be a member of DJ Drama's crew the Aphilliates and be a diehard DJ Premier fan at the same time? Just ask Jaycee, the musical mastermind behind one of 2007's finest mix tapes, Pizza At Primo's. Jay, who took a long hiatus from mixtapes after getting burned out on the game in the late 90's, has come back to the mixtape world with a vengeance in recent months. Since this years NBA All-Star break, he has been dropping tapes on the regular and we're not talking about run of the mill pause joints they sell at your neighborhood bodega. When you bump a Jaycee tape you can expect blends, cuts, mixing, doubling up, and all the other freshness that you used to get when you copped a mix tape.
While Jay has been busy dropping many hot tapes as of late, his Premier mixtape may be his crown jewel. Spanning 56 tracks and featuring many underappreciated Primo songs and original samples, Pizza At Primo's plays more like a true fan appreciation tape than a greatest hits compilation. It shows Jay's in depth knowledge of Primo's extensive body of work as well as his understanding of the music he chose for the mix. The tape is cleverly laid out so that many of the tracks flow together in more ways than tempo. Songs that sample one another are often played side by side while Jay also shows his digging knowledge by exposing several Premier sample sources. There is a perfect mix of skill display and letting the tracks breathe at the appropriate time, making for the most unique and enjoyable Premier mix tape to date. Luckily for TSS Crew's DJ Sorce-1, he was able to catch up with Jaycee, hot off of his appearance with Luda at Northeastern's spring concert, to discuss to conception and creation of Pizza…. Peep the technique as Jaycee gives an up close look at the ingredients that helped make this Reconstruction classic.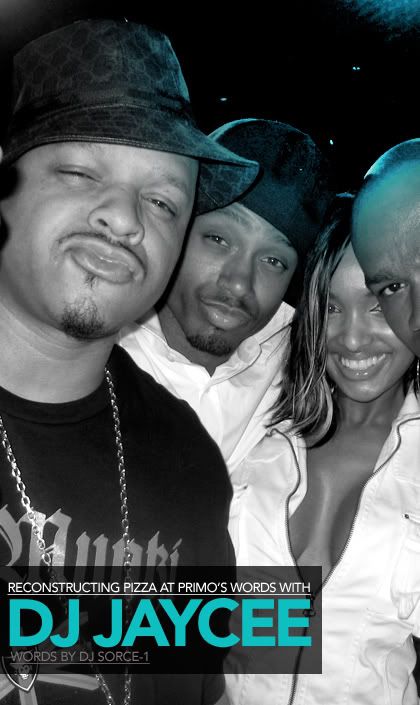 TSS: Do you remember the first Premier track you ever heard?
Jaycee: I would have to say it was "Positivity". I used to watch Rap City back in the day when they had Chris Thomas, The Mayor (Laughs). They used to play "Positivity" a lot and I thought it was a cool record. I liked the sound of it. That record put me on alert to be aware of Gang Starr. Aside from the beat being so dope, I liked Premier's scratches on the hook. His cuts are so rhythmic and I loved the way he broke down the phrases in the samples he scratched. From a technical standpoint the cuts weren't that difficult, but he made them sound great. They were simple, but them shits were funky.
In terms of albums, the very first Gang Starr album, No More Mr. Nice Guy, was kind of hard to find in Atlanta. I've never had that album in my collection to be honest. I've seen it over the years, but I was always more concerned with buying other stuff. It wasn't a priority record. To this day I don't own it, and that would probably piss a lot of DJ Premier heads off.
When Step Into The Arena came out, I bought that shit immediately. I studied all of the beats on it and what impressed me about Premier's production was that his stuff was clean sounding, but he could also flip and do some really gritty shit. If you listen to "Step Into The Arena", that song sounds kinda clean. You can hear the high hats and the 808's. But then on a cut like "Precisely The Right Rhymes," which utilized the Brethren sample and something else that I'm not familiar with…that shit was just dope. It sounded real dirty. You could tell Premier's production was evolving at that point. By the time Daily Operation came out, it was just like "Aww damn." I can say that other than The Bomb Squad, Premier was my favorite producer at that time. This was around '92.
TSS: Have you ever met DJ Premier?
Jaycee: I actually got to meet Premier sometime around '92. I was part of a group that will remain nameless (Laughs). We put a nice lil' demo together and hooked up with a promoter who was bringing Gang Starr to town for a show. They performed at a spot called The Warehouse in Atlanta and we were one of the opening acts.
I remember being at soundcheck and wonderin g why Premier was sound checking with other people's music instead of using Gang Starr material to get the levels correct. I forget the exact reason that he gave me for doing it, but he had just produced "Peer Pressure" by Mobb Deep and he was using the test pressing of that for the sound check. He just kept playing it over and over and over. I was like, "Wow, what the fuck is that?! I gotta get that shit when it comes out!" That was the first time I actually met him. Premier was real cool. "Dwyck" and "Take It Personal" were some of the hottest records out at the time. They were touring to capitalize off of the success of those records.
Around '94, after Hard To Earn came out, I was hanging with one of my closest friends to this day, Apple Jac. He's a huge Pete Rock fan. We used to always get into these spirited conversations about who was the better producer - Pete Rock or Premier. Of course you can't deny Mecca And The Soul Brother and The Main Ingredient. But to me, Premier was the better producer. Pete Rock was doing stuff for people like ADOR, who I thought was suspect. ADOR had a single called "Let It All Hang Out" that got a lot of burn. Pete used the same Marlena Shaw "California Soul" sample that Premier used for "Check the Technique" off of Step Into The Arena.
I remember when Hard to Earn and Jeru's Sun Rises In The East came out I was going to school at The University of Georgia. Me and Apple Jac would ride around Athens bumping the shit out of Jeru and the Hard To Earn album. I was always like, "For real, Pete ain't chopping these samples up like Premier." I was such a Premier fanatic that while I was spinning on a college radio station here we did two free forms dedicated to all Premier production. I spun the entire time for four hours. That was kind of the early foundation of where Pizza At Primo's came from.
At that time, Premier was doing shit for Jay-Z and people like that. You had to have a Premier cut on your album if you wanted your shit to be street credible. I don't understand why Nas and Jay-Z won't record with him today. That shit is stupid to me.
TSS: It's fucked up man. A few years ago I read that Jay rejected some pretty dope Premier beats for his recent projects.
Jaycee: Yeah. How would you shit on some Premier beats and then accept Swizz Beatz?
TSS: Ha ha, I don't know man. It's suspect. What was the first Premier record that you ever bought?
Jaycee: It was "Words I Manifest." That was the first Premier 12" that I bought. I got it at this record store called Third World Enterprises. I was looking through their singles and found doubles of "Manifest". This was back in 1990 I believe.
TSS: What kind of environment do you like to work in when you're making a mixtape?
Jaycee: Generally, I don't like to be bothered. I'll get a lot of phone calls that I'll just ignore. Girls will say, "How come you don't call me?" I just go, "Look…bitch, I'm focused. Leave me alone. I can fuck with you after I'm done." When I get focused, I leave the phones and everything else in the other room. Sometimes I'll zone out with a twelve pack of Blue Moon or whatever I got in the fridge. When I was recording the Eargasm joints, it was Patron and grapefruit juice. I got neighbors, so around midnight or one o'clock I turn it down. I don't want motherfuckers beating on the ceilings.
TSS: Did you use a mixture of vinyl and Serato for Pizza At Primo's?
Jaycee: I used vinyl for a lot of the samples. There were a couple that I didn't have and my boy Apple Jac recorded them to MP3 for me. Serato is dope when you don't want to burn out your records. I've spent a lot of money on records. Even when I was doing commercial radio and getting records for free, I would still go to the store and buy records. I bought a lot of Dilla stuff back in the day, but that's a whole other interview. I would say about fifty percent of Pizza At Primo's was vinyl and then some records were recorded to MP3. I'd been looking for the "Return of The Crooklyn Dodgers" sample for years and it just so happened that after I made the CD, I found that album with the sample on it. I was like, "Damn, that would have been an ill ass transition."
TSS: That gives you reason to do a Part 2.
Jaycee: Part 2 is in the works. I haven't started recording it, but I've been putting records to the side that I'm thinking about using. A lot of people asked me, "Why didn't you put any of the females that spit over Primo beats on the tape." I just tell them, "Don't worry, it's coming on the second joint." Paula Perry, Lady of Rage, Charli Baltimore, and Sonja Blade. All of them killed it on their Premier produced tracks.
TSS: Do you have a favorite Premier track?
Jaycee: My absolute favorite? Man, that's hard to say. I'd say that "Return of the Crooklyn Dodgers" is in my top three. I remember when I got that record in the mail, I played that instrumental nonstop for like three hours. I was sitting in the basement vibing to that shit like, "Wow, this record is fucking beautiful."
People are so used to Premier chopping records up that they don't think of his records just being straight loops sometimes. When I found the "Return…" original I was like, "Word, it's just a straight loop? Oh fuck." I was a little disappointed, but that shit is still fucking beautiful. Even though it's a straight loop, you can't take away from the fact that the track is classic as hell.
TSS: Do you have a favorite slept on Premier track?
Jaycee: "The One and Only" by Snoop and "Brownsville" by M.O.P. He's done so much shit that it's hard to narrow stuff down with him. It's overwhelming to talk about. He did a joint on the Don Cartagena album "That Gangsta Shit." That song is hard as fuck. He also did a cut for Nenah Cherry called "Sassy" that was also kind slept on.
TSS: Where did the title Pizza At Primo's come from?
Jaycee: Thank Apple Jac for that title. I was trying to think of a title and he said, "Why don't you call it Primo's Pizza." As much as I travel, I always see pizza joints named Primo's. So when he said that, I said, "Yeah, that fits."
TSS: I had never actually heard Pizza At Primo's it until DJ Soul posted it on his blog. I was like, "How the fuck did I miss this?"
Jaycee: I think it went under a lot of people's radar. I'm part of the Aphilliates and the main thing that we're known for are DJ Drama's Gangsta Grillz. When you put out something that doesn't feature Lil' Wayne or Jeezy, it tends to go over peoples heads. I did it right after the mix tape raid situation went down. I was afraid to make the tape to be honest.
Truth be told, it was supposed to be a two part tape. Apple Jac came up with the idea. He wanted to do something called "Pete Rock vs. Premier: The Battle Royal." It was going to be a double CD. I don't know why it didn't happen. I think it took him a little bit longer to get his stuff together. I felt good about my Premier part, so I just decided to put it out. With Apple Jac's work schedule and my travel schedule, it would have been virtually impossible for us to get together for long enough to knock it out.
The version of Pizza.. that's out is the third version of it. I accidentally put on a KRS-One joint that wasn't produced by Premier on the first version. I was all hyped about the first version and gave copies of it to a few friends. One of the people I gave it to was Kaos, who runs the blog The Kaos Effect. He was like, "Yo, that shit was hot, but you had this KRS One joint on there, and I don't think Premier did that one." It was a cut off of Return of The Boom Bap. I didn't want anybody calling me out, so I went back to the lab.
The second version was cool, and I had it done around All Star weekend when I was out in Vegas. Chubby Chubb, who DJ'd for Original Flavor back in the day, was at the same event that I was. We were sound checking, and I was playing the second version. He asked if he could have a copy. The copy that I gave him is pretty much the same as the version that's out now, but there are some differences. After sitting with the second version for a minute I thought I could improve it. The version Cubby Chubb has is not the version the rest of the world has. But after doing it three times, the third time was a charm.
TSS: Did you re record the whole thing?
Jaycee: Yeah, when I decide to record something over, I scrap the whole shit.
TSS: Wow. That's insane. I couldn't scrap an entire tape that I'd been working on.
Jaycee: That's just me. I'm so hard on myself. If I don't like some shit, it's not coming out the crib. I have to be completely ok with what I put out. I've seen really good tapes get picked apart by people whose idea of a mix tape is a CD with "None of that DJ stuff on it." That mentality fucked the game up for me. I used to do mix tapes from 94-97. I would do a mix tape every month. They sold, but people would be like, "You're doing too much mixing on them." I got tired of going down in the basement and slaving and making sure everything was perfect when a motherfucka like Clue could make a tape with no mixing and three hot freestyles and have it sell like crazy. I just got frustrated. After '97 I was like, "This mixtape shit is not what's up."
TSS: In terms of Pizza At Primo's construction, I noticed that you have a definite connection between certain songs. For instance you drop "1, 2 Pass It" and blend in "Bring It On", which samples "1, 2 Pass It".
Jaycee: After the second version was done, Apple Jac heard it and said, "Why didn't you put "1, 2 Pass It" next to "Bring It On"? I totally brain farted and didn't think to use "Bring It On". After he listened to it he said, "You forgot about 'Bring It On' son." That was just one more reason I had to scrap the second version.
It wasn't just that one song though. There were other things. With Royce's "Boom" I backspun it seven or eight times and I was like, "Damn, this is overkill." I also ended the tape with Pitch Black's "It's All Real". I didn't think that song was the best way to end it. I happened to be listening to Black on Both Sides one day while cleaning the house. When "Mathematics" came on I was like, "That's it. That's how I'm ending the album."
TSS: Do you have anything else about Pizza At Primo's that you want to speak on?
Jaycee: I wonder if Premier has heard the mix. I'd like to know what he thinks of it. People in his immediate circle have it. I've given it to Jazzy Jeff, DJ Revolution, and some other people. I know he has to be aware of it, I just don't know if he has heard it yet and what he thinks.
and there you have it. big shouts to Gotty, Sorce-1 for interviewing me, my folks who assisted me in compiling a few joints for this project: Applejac, Rage, Tommy Fixx, my Aphilliates fam, FWMJ at rappersiknow, DJ Soul, and everybody who bought or downloaded it, and most of all DJ Premier for creating all these dope ass joints to make this mix possible.
"More Pizza" coming soon...